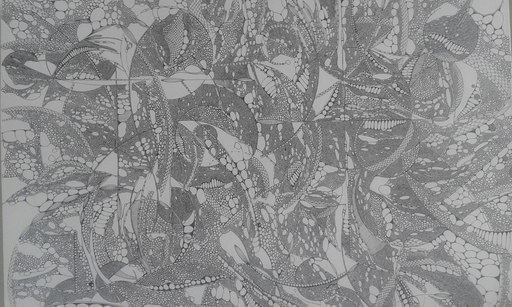 Sonja Andela
Recurring botanical elements, abstract shapes of what seem to be flowers, fish, silhouettes of trees and their roots, populate Sonja andela"s figurative dip-ink art. Organic forms, in what might be called abstract graphic art, naturally flows over and changes into minutely worked out details.
Figurative art wich, trough an innate artistic feel how to cover the plane, provokes and invites to empathise with the artist and here work of art.
Everything breathes calmness and balance, monk-like devotion and love for pen and empty space. Extraordinary patterns originate in juxtaposing a general free flowing basic form, worked out in detail and the art to delete.
An intuitive approach wich almost automatically springs from a sort of meditative, craftmanship-like repetition of the dip-pen technique, resulting in a controlled design hibernating all characteristics of emotion bursting though.
Feeling and reason, figurative an realistic, minute detail and generic form, sometimes harmonising at times contradicting. All encaged within or liberated from the carefully chosen geometric form.
Whith a marvellous feel for balance the artist works out detailed figurative basic patterns, which interconnected through an intelligent and artistic construction of lines invite the spectator to use his or her imagination. Andela"s drawing in a drawing are associative impressions which repeat themeselves ore partly re-occur in other details, acting as a guide to direct thinking. Andela"s art sometimes limits and deliberately imprisons imagination at other times she treis to elicit all we have of it. Whatever she paints and portrays, however, she always direct us.
It is passionate dip-ink art which through contrast harmonises!